2021 Gift Guide with NEW ideas
This year's gift guide is filled with new ideas, fun finds, and unique items! We have found everything from meaningful gifts to fun gifts! We've separated them into groups: Kids, Family, Home, and Adults. Many of the items could go into multiple categories, but I've sorted them as best as I could. 🙂 There are several Amazon affiliate links, as well.
Happy Shopping!
KIDS
Nintendo Switch – OLED model. With a vibrant 7-inch OLED screen, you can really notice the difference with vivid colors and crisp contrast whether racing at top speed or squaring off against enemies. It also features a wide adjustable stand that's perfect for tabletop mode, a new dock with a wired LAN port, 64GB of internal storage and enhanced audio. And just like the flagship Nintendo Switch, you can enjoy three modes in one (TV, tabletop, handheld).
PonyCycle toys are in styles of adorable plush horse/unicorn, totally kids powered, no need of any batteries or electrical power. It is the Best Invention in recent 20 years for Kids and provide endless fun and good exercises.
You can find adorable accessories for your pony, zebra, or unicorn, too!
Nova Pro Hoverboard: Featuring Dual 200 Watt Motors, and a Max Speed of 6.2mph the GOTRAX NOVA PRO can support up to 176lbs. extremely energy efficient using a 36V 2.6 Ah battery it can ride up to 5miles on a single charge. The GOTRAX NOVA PRO features cool LED lit wheels that light up the night. It has great reviews on its website, as well!
One World, Many Colors– this is a book that takes readers on a journey around the globe, showing how children in different parts of the world are doing very different things at the same time.
KicksBySammy's colorful, eye-catching, and incredibly soft blankets & more! Each item features emerging artist & founder Samantha Handler's hand-drawn designs. KicksBySammy can personalize each lovable blanket, backpack, towel, & more with the recipient's name, initials, or a phrase for a one-of-a-kind touch. We love the towel wrap (below) and the backpack (below!). They are so colorful & useful.
We love the towel wrap (below) and the backpack (below!). They are so colorful & useful.
Stomp Rocket: They can be used indoors and outdoors! Your child can experiment with speed and force to race their car the farthest. Recommended for ages five and above, stomp racers are 100% activated by kids and require no batteries. Stomp Racers easy setup.
Enchanting Hedwig™ Spin Master One of your favorite owls, Hedwig can now be your loyal companion and help you recreate your favorite Harry Potter film scenes. The magic begins when Hedwig comes to life with realistic features, movements and sounds. Featuring intuitive ruffle detection, she can distinguish the direction of petting -she doesn't like to be pet the wrong way!
Hedwig will also recognize and respond to the tone of your voice. If you speak lovingly, she will respond with happy coos. What would a Wizarding World owl be without their letter? Enchanting Hedwig™ comes with a Hogwarts envelope that she holds in her beak. Only friends with the secret combination of interactions will be able to get Hedwig to release the letter.
TekyGo! TekyGo! was designed to help children learn, grow, and develop through games designed to improve their motor skills, daily exercise, color and word association, the list goes on! Play time with TekyGo! is active learning, not passive learning. We have the Junior Bouncer Bundle & the kids love it!
Moon Babe Blankets: The weather outside might be frightful, but you can feel confident your favorite littles are snuggled up warm and happy when you gift them with a Moon Babe Blanket. The stars magically aligned just right to bring mama and babe together! This mama-owned company creates beautiful blankets perfect for cuddling & made to remember to practice thankfulness & gratitude.
Butterfly Craze Pillow Beds! Every child and tween will love lounging in style on Butterfly Craze's comfy and stylish Pillow Beds! Just stuff it with five standard-size pillows (not included) to create a comfy recliner where they can play, read or watch TV. Perfect for nap time and slumber parties! The Pillow Beds are made of plush, ultra-soft fabric with sturdy zippers for years of use and enjoyment. Choose from a variety of prints; pillows not included.
Red & Olive Co (Doll with Matching Accessories) – Red & Olive Co. is a fair trade doll brand that hand-knits fashionable best friends (BFFs) that encourage positive values. Every detail from whiskers to shoelaces are handmade with premium natural materials by artisans in Peru. And it doesn't stop there, your child's doll has a matching head accessory for them to wear, sparking imaginative play. Each BFF promotes emotional development and helps children feel brave as they grow through life's adventures. 
Floor Floaties: Available in six larger-than-life designs (most are 4 feet across), Floor Floaties from Good Banana are so fun with their eye-catching shapes and bold colors. Each features a cloud-like plush surface and cushy inflatable core that are soft to the touch. Comfortable & lightweight, so it's easily portable. I loved their weighted blankets, too! We ordered a pizza-shaped weighted blanket!
FAMILY
Outschool connects kids with pros/teachers that cover everything from singing to coding, cooking, acting, LEGO masters, karate, dancing, musical instruments, art, sports and much more-  in their live 100K+ online classes. Parents can sign kids up for ongoing classes directly or provide a digital gift card to let them choose. 
The Lurera Pillow is a beautiful, luxuriously soft pillow with a heating pad and a heartbeat. Lurera mimics the tactile touch of a pet or another human being. We know that tactile touch leads to a significantly lower level of anxiety, and that is why Lurera was born, to provide these mental health benefits for people who can't get a pet or lack human touch.
Anjie & Ash Crossbody Bag – Anjie + Ash's line of everything mom & kid-friendly includes their signature teething necklaces, diaper bags, toys, and more, making this time of year just a bit easier for moms. They've won the Mom's Choice Award, Parents' Favorite Products, Tillywig Awards, National Parenting Product Awards, and have thousands of moms who love their products. I love the Crossbody bag because Sometimes you don't want or need to carry ALL THE STUFF, so this sleek and compact diaper bag holds just the necessities. We love that this bag doesn't "look or feel" like a diaper bag. 
VELA Apparel is a Colorado-based brand with serious mountain vibes designed for everyone who loves activewear (from hiking to working out to hitting the slopes to running errands!) – with a twist.  The stylish and functional joggers, hoodies, tops and sweaters feature original artwork from the minds and hands of our in-house, local artisans. Unlike mass-produced, mega-retailer gifts, our activewear for men, women and kids is manufactured using sustainable materials as part of our mission to leave the planet a better place than we found it. And we have home goods and puzzles, too.  
Explorer Diaper Backpack: The Explorer Diaper Backpack is designed for modern parents who enjoy outdoor adventures with waterproof, premium quality oxford fabric. This large capacity diaper backpack comes with multiple zipper compartments and pockets, making organization a breeze! 
Loom Footwear – waterproof shoes. Loom is the ultimate waterproof sneaker to keep your feet comfy and dry no matter the weather. This sleek, wear-anywhere sneaker is meant to tackle any setting – rain, mud, snow, slush – you name it. Loom shoes are city-appropriate and designed with outdoor activities in mind.
Keebos– A crossbody phone case that helps you never misplace, drop or lose your phone again. It comes with a convenient & secure wallet for up to 6 cards + cash. Designed, assembled, and shipped for free from Venice Beach, CA. For each Keebos purchased, one tree is planted. It's perfect for multitaskers, busy moms, travelers, and anyone that loves to stay handsfree and carefree.
Well Told– We ordered the College Town Map Insulated Hydration Bottle. Not only does it keep your hot or cold drink the right temperature down to the last sip, it comes engraved with a detailed map of your favorite U.S. college town for a uniquely personalized and eye-catching engraved water bottle. Add custom text to make it even more personal or to create an amazing, one-of-a-kind gift.
NEW Divided Color Bento Boxes from U-Konserve – Like a traditional bento box, these divided to-go containers from U-Konserve are easy to separate food for picky eaters, and great for portion control. Perfect waste-free solution for daily lunches, takeout, picnics, travel, outdoor adventures, bulk shopping and salad bars.
The Transit Mug from EcoVessel (16 ounce) – Insulated stainless steel mug features modern lines and sleek design with unmatched temperature retention. Features TriMax® Triple Insulation and will keep your drinks cold up to 48 hours and hot up to 4 hours. Includes a multi-position open/close slider lid, a non-slip silicone base, and an ergonomic handle that makes it comfortable to hold and easy to carry through all life's adventures big and small. EcoVessel is proud to give back 1% to the Planet.
SLIPS AFRICA– Africa to the World. These Flip flops are the perfect vacation shoe – they're breathable, easy to wear, and even easier to pack, and at SlipsAfricathey've put their own authentic twist on this popular style of shoe. Premium beach and leisurewear brand founded by Ola Sodipo and Baba Akande provide affordable, comfortable leisure clothing. A mix of incredible designs and culture that captures Africa's imagination, beauty, and soul as a continent.
DiscountGlasses.com You can order your glasses online at DiscountGlasses.com and know that you're getting a great pair of glasses. Shop a wide selection of prescription eyeglasses, sunglasses, and reading glasses. They offer overnight shipping and free 365-day returns that set us apart from other online retailers.
MOZY– It's The Jacket For Your Legs! The Mozy is the ultimate cold weather blanket, this thermal wrap is designed to move with you and keep you cozy in temperatures as low as 20℉. Created by a thermodynamics engineer, the patent pending Mozy has been tested and found to be 500% warmer than a traditional stadium blanket thanks to its innovative convective heat loss blocking design, plush, heavyweight fleece interior and weather-proof outer shell. Best of all, its versatile and adjustable, wrap design means you can move about the firepit, campsite, rv, or stadium stands without it slipping or bunching. 
Salty Britches Cold weather and changes in humidity can irritate the skin. Replenish moisture and relieve symptoms by applying Winter Skin Relief Ointment from Salty Britches before the elements affect the skin. A super robust skin barrier and soother, apply it before winter activities for all-day protection. Perfect for chapped lips, dry hands, cracked knuckles, rough patches, itchiness, and winter eczema.  They also have awesome apparal like hats, shirts, and more!  
Truffoire – Rehydrate your skin with Truffoire's Salt Scrub. Made with gentle ingredients to exfoliate dry skin, leaving your body with a silky soft feel.Truffles conjure up images of a gourmet delicacy. Did you know they also have wonderful anti-aging benefits? It's the powerhouse ingredient for a new brand that turns back the clock on aging skin.
Introducing Truffoire, a luxury skincare brand helping people around the world feel better and look gorgeous. Users say it's like plastic surgery in a bottle. Its anti-aging products stand out for their use of truffles. The research-backed formulas h
Porefector: Perfect for Teens! Our pore cleaner is the best pore minimizer to detox pores and dries up blemishes, so your complexion is brimming with confidence. The vegan pore cream is highly efficacious with 30% zinc oxide; vegan pore cream works like a drying lotion for sensitive skin. It improves tone and texture, so skin looks clean, fresh, and flawless.  The natural formula contains organic borage seed oil, tamanu oil, moringa seed oil, arrowroot tapioca, and clary sage to soothe redness and minimize imperfections without stripping or drying your skin.
I also love their Freshstick for our teens! A plant based zinc deodorant that is aluminum and baking soda free. It combats odor and impurities while matcha green tea and zinc oxide fight odor to keep you fresh.
The Bedrock Balm is great for redness, but I also use it for my lips when they are chapped.
Breatherapy Tabs – improve lives through the health benefits of aromatic plants. Breatherapy's patented technology provides a person the benefits of essential oil aromatherapy through a small adhesive tab that is attached directly to the skin — for aromatherapy on the go.
HOME
Let's Talk Towels – This company is one of my favorites! They make beautiful, budget-friendly, high-quality 100% Turkish cotton towels made perfectly for your family & friends. The towels are the perfect accessory for families and travelers for every season.
Versatel, lightweight, durable, fast-drying, compact – these are just some of the reasons people have loved Turkish towels for centuries. Ethically sourced from Denizli, Turkey, these towels embody expert craftsmanship and high-quality materials. The collection offers something for all ages with stunning designs that fit into any decor. They have the most adorable styles, colors, and they have so many sizes. The blankets are perfect, too!
Noho Move Chair – This chair is built for all the demands of today – and every day to come – the noho move™ chair has your back. Its revolutionary design ensures correct posture and dynamic ergonomic comfort, supporting all of your activities around the hub of home: from dining, to relaxing, to working from home.
Backyard Discovery's Farmhouse Bench is the perfect transitional piece for any indoor and outdoor setting. The rustic finish makes this piece perfect for home decor or a resting spot after some gardening. The versatility of the Farmhouse bench can tie together any look or be just that piece of decor you were missing.
The EnviroKlenz® Air System Plus is the premier air-purifying solution. It includes the same innovation as the original EnviroKlenz Air System but has the added feature of UVC bulbs to provide additional germicidal irradiation and internal system cleaning. It removes & destroys toxic and noxious odors, chemicals, and pathogens, and 99.9% of viruses (tested virus was 0.025 microns) and bacteria (gram-positive and gram-negative).
Native Maps Celebrate what makes your town great by dedicating a place on the wall for these premium artist-quality maps.
A small business out of Knoxville, Tennessee, all items are earthly-friendly and made in small batches. The city maps are screen printed by hand on heavyweight art-quality matte paper. The brand is proud to be Climate Neutral Certified in an earth-friendly studio that measures, reduces, and offsets its carbon footprint.
Morning Bird: Their gorgeous quilts, duvet covers, sheet sets, and knit throws are artisan crafted using 100% cotton for a soft and cuddly feel kids love and parents can feel good about. Their duvet covers, shams as well as their sheet sets are all organic as well. Best of all, they feature your kid's favorite characters from Batman™, Hot Wheels™, L.O.L., Surprise!™, PAW Patrol™, Ryan's World™, Jurassic World, My Little Pony, Trolls, and more!
Cloth + Bristle – No. 001 Household Cleaner – Nothing says boujee quite like this original, high quality household cleaner. Cloth + Bristle products gets your tough jobs done and works NATURALLY! No more nasty chemicals or toxins in your home. No. 001 can take on even the worst rust, lime scale, soap scum, mold, mildew, bacteria, dirt, grease, and so "muck" more! Any surface that needs cleaning, No. 001 will clean it safely, even natural and porous surfaces, granite, marble, hardwood, metal, plastic, natural stone, tile, glass, grout, porcelain all surfaces in bathrooms and kitchens and flooring. 
The Worthington Collection – The Worthington Collection's richness in quality is perfect for your boujee-est friends. It is specially designed to remove odors permanently from any room! Give your friends the gift of relaxation and let them enjoy a fresher home while transforming it with these beautifully fragranced, odor-eliminating candles, all featuring a clean burn.
Olivo Amigo – Introducing Olivo Amigo, the premium extra virgin olive oil from Spain with olives from the early October harvest. The timing is perfect for your holiday celebrations, hostess gift, and gift-giving. Gloria Molist, founder of Olivo Amigo and native to Spain, turned to family-owned olive groves in Jaen, Spain to bring authentic Spanish extra virgin olive oil to consumers worldwide. Her creation, Olivo Amigo, is the liquid gold that foodies deserve to enjoy!
FEBE Candles – FEBE Candles is a new brand that recently launched its vegan, eco-friendly, and cruelty-free candle collection. There is something for everyone, from luscious aromas of cocoa butter cashmere to yes, man cave notes! Handpoured in gold glam vessels, the coconut wax candles are perfect for any home decor and heat up quickly to blissfully envelope a room. 
Aspen Clean Natural While House Cleaning Kit includes 9 products. AspenClean Natural cleaners are 100% natural, made with organic essential oils, are 100% vegan, and are safe to use around kids & pets.
Aspen Clean Laundry Detergents are safe and promise to get out all of the stains using a formula that is safe for even the most sensitive skin. This hypoallergenic, natural laundry detergent is formulated with plant-derived ingredients for your safety and peace of mind. It's perfect for babies and anyone with allergies or sensitivities.
Sunday Citizen bedding. Soft, cozy blankets and pillows are the perfect starting point for building your sanctuary.  Snug Basketweave Comforter is a refreshing take on their best-selling classic Snug Comforter. It boasts the same ultra soft fabric plus a little texture for extra comfort. The Snug Euro Shams add volume, making any bed lush with relaxation.
ADULTS
KingsLoot: This wallet is guaranteed. If something happens to it, they will replace it for you. The Mini 2.0 is our most minimal and the smallest, yet most functional, leather wallet to date.
It can be used as a business card holder, or even as a daily wallet for those who still want a slim wallet while not getting rid of those "extra" cards.   The main section features a pull tab for quick and easy access to cards, while the secure elastic band can be used for a few folded-up bills. Truly a magnificent wallet!
Cologne: If you are looking for cologne, these three sets from Macy's are perfect.
Montblanc Explorer  is an unconventional woody and fruity fragrance with Bergamot, Vetiver, Patchouli. 


Coach Blue

is a modern, fresh, and invigorating scent. A Fougère Watery fragrance with Lime, Ozone Accord and Cedarwood.
Jimmy Choo Man is a fresh, charismatic, modern woody fougère with notes of Lavender, Pineapple Leaf, and Patchouli.
Bellion Spirits: The world's first functional spirit, made with NTX technology making it "smarter" without sacrificing any of the flavor or quality. Naturally sweet and 6x distilled vodka to bring flavor to every sip. Enjoy an additional layer of essence in your traditional cocktails so you can eliminate the need for sugary mixers in your next drink.
WithCo Cocktails: Professional cocktail made right at home with cocktail mix full of fresh, flavorful ingredients. There are no preservatives, plus they are gluten-free. The ready-to-enjoy bottles are also shipped conveniently to your doorstep. It's the modern, refreshing way to enjoy a cocktail at home. 
Some of their fall favorites this season: Ellis Old Fashioned Mix, Ginger Mule, or Honey Sour. 
Pull Start Fire – Add Pull Start Fire to your list if your outdoor lover is an avid camper, hiker, or just loves a good outdoor bonfire! Pull Start Fire is the fire starter that gives you a cozy, outdoor fire in less than 5 seconds. It requires no matches or lighters, is windproof and rainproof, and can even light on wet wood. All you do is pull the string to start the fire!
Soo'AE (SOO-WAY) – Stay fresh and clean while avoiding dry patches this winter with their Vegan Phyto Collagen Collection. It is impossible to go wrong with Soo'AE's high quality face products that are formulated for dry, dull skin. Soo'AE is made up of green, clean K-BEAUTY products that are vegan, natural, and cruelty-free. Ingredient-focused and affordable, Soo'AE blends luxury and affordability while pioneering new and innovative approaches to skincare. 
Hereward Farms – Love Bundle – Express your love and appreciation for your boujee friend with this boujee love bundle by Hereward Farms! This brand is the maker of lavender-infused spa products, that carry handcrafted goodies coming straight from the farm to your skin and body care. These self-care items are intentionally made to improve your skin and its texture. Made with the finest ingredients, expertly blended with lavender that is 100% natural, non-GMO, and cruelty-free with no additives, pesticides, or chemicals.
Find more ideas here:
Meaningful Gifts for Your Parents, Siblings, and friends
Grab Our One-on-One Time Calendar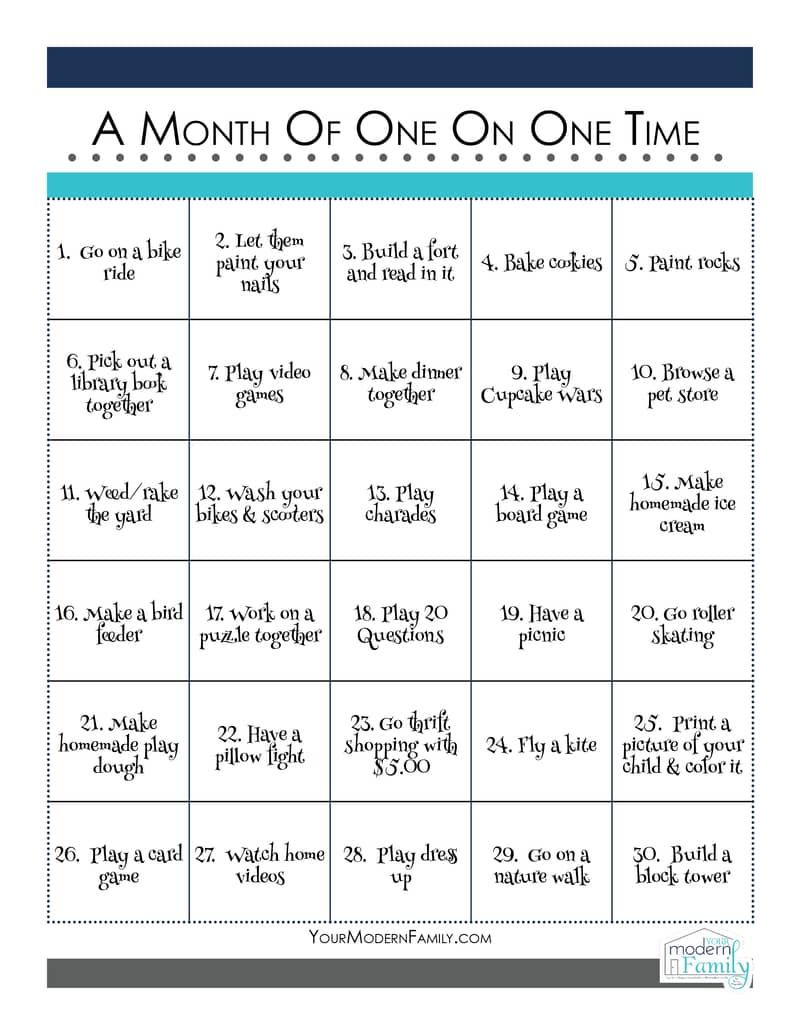 I'd love to send you 30 days of One-on-One time Ideas for you & your child!
Please enter your info below & I'll send it to your email inbox. 🙂
© YourModernFamily.com. Content and photographs are copyright protected. Sharing of this article is encouraged and appreciated, copying and/or pasting articles to any social media is strictly prohibited.